Field Day - June
Field Day, the most time-honored tradition in the hobby, was inaugurated in 1933 as a local, national and international test of portable radio equipment for use during disaster. It has evolved into an annual event focusing on preparedness for communications emergencies.
Field Day takes place on the fourth full weekend of June. The next exercise will take place on June 25-26, 2022. Operation starts at 11:00 AM local time on Saturday and will continue for 24 hours. Visitors are always welcome!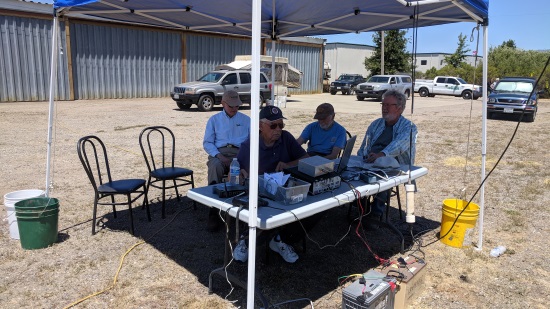 Location
VOMARC has been setting up an emergency-powered station during Field Day at Sonoma Skypark (21870 8th St E, Sonoma) for a few years. You can find us between the last hangar building and an adjacent vineyard (of course!).
Field Day Rules
Eligibility: Field Day is open to all amateurs in the areas covered by the ARRL/RAC Field Organizations and countries within IARU Region 2. DX stations residing in other regions may be contacted for credit, but are not eligible to submit entries.
Object: To work as many stations as possibleon any and all amateur bands (excluding the 60, 30, 17, and 12-meter bands) and in doing so to learn to operate in abnormal situations in less than optimal conditions. A premium is placed on developing skills to meet the challenges of emergency preparedness as well as to acquaint the general public with the capabilities of Amateur Radio.
Date and Time Period: Field Day is always the fourth full weekend of June, beginning at 1800 UTC (11:00 AM local) Saturday and ending at 2100 (1400 local) UTC Sunday.
General: There are specific rules and awards for various operating conditions and equipment. Field Day has become a competitive event to encourage clubs and individuals to expand their capabilities so they are better prepared to operate more effectively and efficiently in emergency conditions.